A good bike rack can protect both your vehicle and bicycles, but if you balk at the thought of paying the asking price of the top models Allen Sports offers an affordable alternative. This rack has the capacity to hold up to three bikes and the cost isn't even that much more than their two bike models. Allen Sports is quite a respected name when it comes to bike racks, but bear in mind that this is very much a budget model and if you are expecting top-of-the-line quality from it you might be disappointed. Having said that, let's take a look at what it has to offer.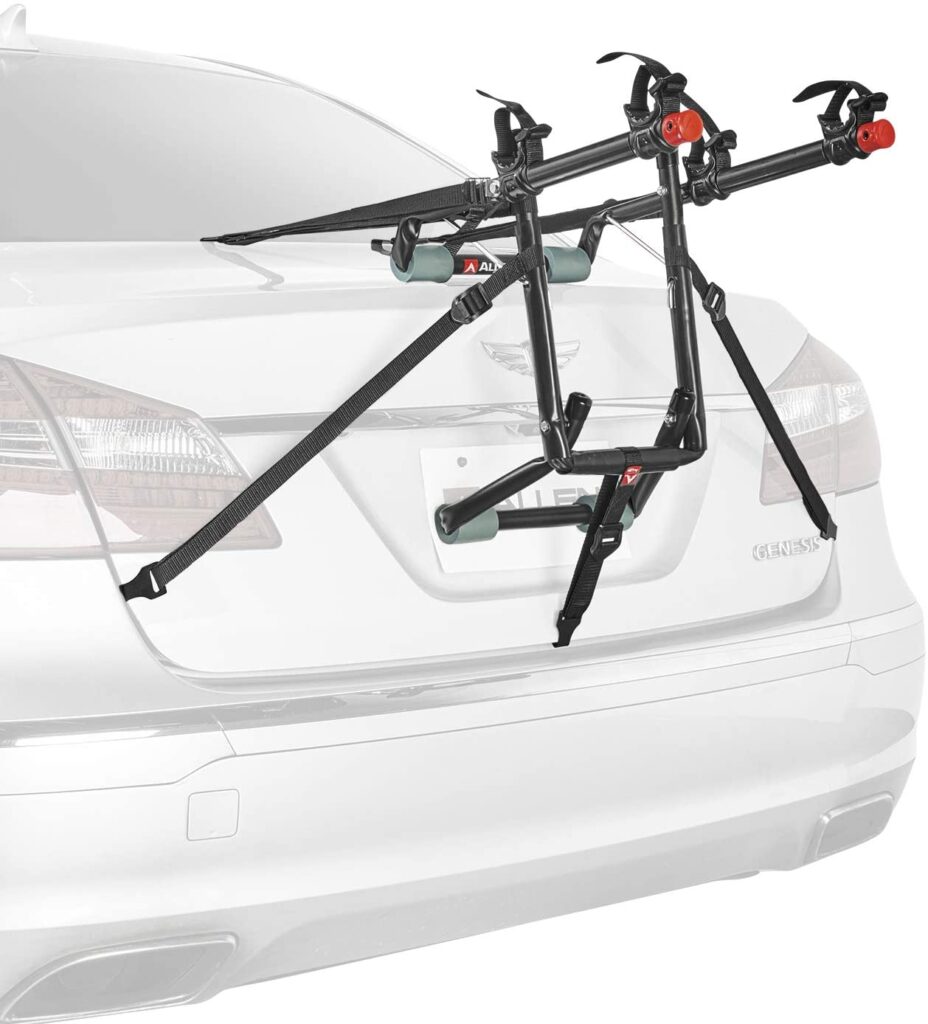 Overview
Installing the bike rack was a quick and painless process seeing as everything is already fully assembled and all relevant instructions are included. One thing I did notice was that the straps had loosened a bit during the process of loading three bikes. These straps were secured before loading the bikes, so it might be a good idea to always double-check all the straps after loading bicycles, especially if you are going to load the rack to full capacity.
The rack should fit most hatchbacks, sedans, minivans, and SUVs, but be sure to check out the fit list on the official Allen Sports website to ensure that your vehicle is compatible. The components used for this bike rack exceeded my expectations considering the low asking price and actually looks like it can withstand some wear and tear. The rack has a weight limit of about 100 lbs. and can carry a total of three bicycles. I tested the rack with a men's, women and kids' bikes and they all seemed to fit fairly well.
The women's bike didn't have a horizontal crossbar, so its rear wheel ended up being higher than the other bikes because of the angle at which it was mounted, but this didn't seem to affect the stability of the rack in any way. What I like about the three bike capacity of this rack is that not only does it give you more versatility, but you can also space the bikes apart a bit further than on the two bike model when using two bikes. Although the rack works fine with two adult and one kids' bike, I would be hesitant to trust it with three adult bikes.
Features
This rack features individual tie-downs, which definitely provide better protection for the bikes and the lower frame is padded to prevent paint damage to the vehicle. In addition to the top and bottom straps, this rack also features side straps, which are great for improving lateral stability. While I always take care when taking sharp corners with a bike rack mounted, these extra straps just add some further peace of mind. The straps feel fairly sturdy and each one has metal clips that are used to secure the rack to the trunk and bumper.
I would actually advise placing some cloth or padding between the clips and your vehicle in order to prevent paint damage. For extra safety, it is also a good idea to tie up the pedals and wheels of your bicycles in order to keep them stable during transit. I've seen the kind of damage that spinning wheels and pedals can do to the paintwork of a car, especially over bumps, and trust me it is worth the extra effort to ensure that everything is secure.
Allen Sports Deluxe 3-Bike Trunk Mount Rack Pros & Cons
It is hard to be too critical of lower-priced bike racks such as this one as you pretty much get what you pay for. This isn't the best-looking, biggest, or most durable bike rack that I have tried, but considering its price this is quite understandable. Take a look at my list of pros and cons below for an idea of what to expect from this bike rack.
Allen Sports Deluxe 3-Bike Trunk Mount Rack Pros
One of the most affordable 3-bike trunk mount racks on the market.
The rack is pre-assembled and requires very little effort to install.
The compact design of the rack makes it easy to store in the trunk of a vehicle when it is not needed.
Durable construction.
In addition to top and bottom straps, the rack also has side straps for better lateral stability.
Can be used with bikes of different sizes and styles.
Allen Sports Deluxe 3-Bike Trunk Mount Rack Cons
The metal clips used for fastening the straps to the back of the vehicle are un-cushioned.
This bike rack does not feature any kind of theft prevention mechanism.
There is a risk of scratching or damaging your vehicle if the rack is incorrectly installed.
Conclusion
As with the other Allen Sports racks in this low price range, this rack is probably more suited to infrequent use over short distances. Avid cyclists that regularly drive long distances with the rack fully loaded might want to consider a more robust solution to keep their precious bikes secure. The rack works as advertised though and if you are on a tight budget this is a great option. The fact that it is so easy to set up is also a definite plus.
Recent Posts
link to How To Lock Bike Rack To Car
Hitch bike racks to cars are great forms of carriers. There is the perfect device to bring three bicycles at once. Using a hitch rack allows you to camping longer distances while tagging a bike rack...
link to Vortex Rangefinder Reviews 2023
 I can give you some tips on what to look for when shopping for a Vortex Rangefinder . Consider the intended use of the Vortex Rangefinder. Do you need it for hunting, golfing, or some other...