Looking for a quick and easy way to protect your bike while it's out of sight on the bike rack? The Hiplok makes it easy to protect your bike while it's not in use and is quick and easy to take with you if
Firstly we should be clear that why is a bike rack for?
Where is the bike rack used? A bike rack is used usually for two purposes:
1) To decorate bikes in a bike store or bike-garage
2) To keep bike behind a car or upon a car
Necessary materials to protect a bike on a bike rack;
• Rack
• Rope
• Cover
Five steps to protect bikes on bike rack;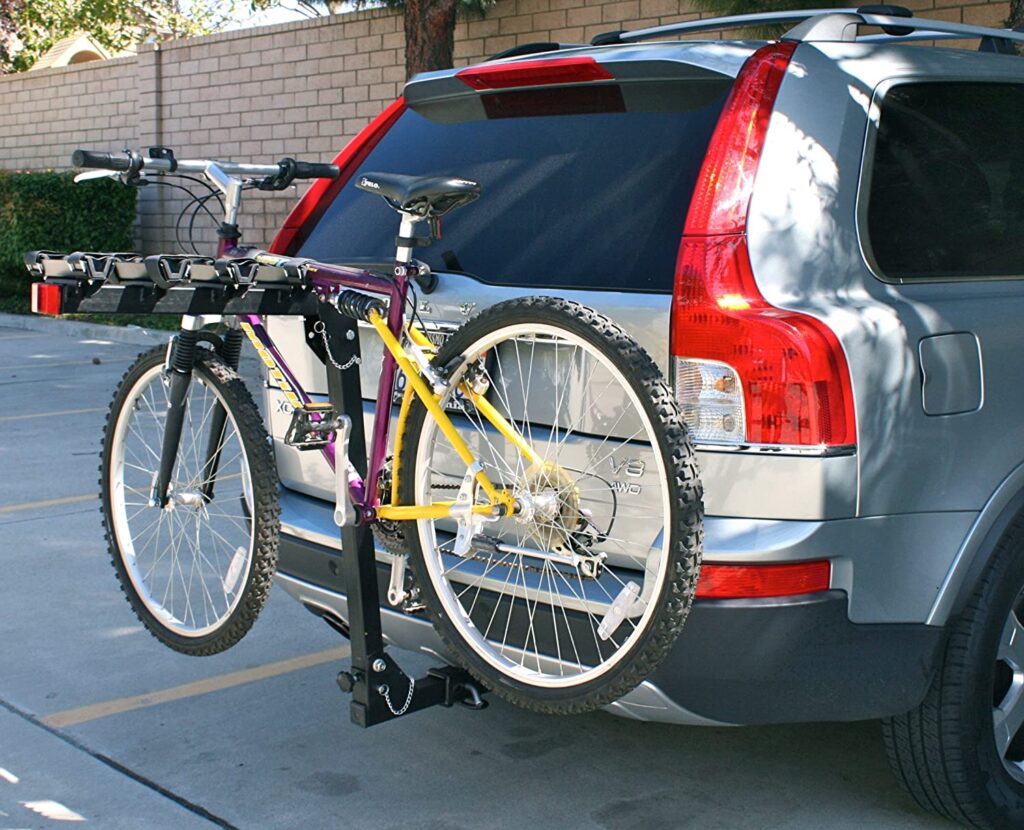 Step -1: Set your bike rack correctly
Before you put your bike on a bike rack double check if your bike rack is well settled.
Because, if your bike rack is not well settled then it may move about when you drive a car. On the other hand, it may fall down in the street and your bike gets broken. Especially, your bike's handle can get broken. However, as you can check the rack setting very simply then why will you have risk on that point?
If your bike rack is properly set, then you can keep your bike on it and get ready to move.
Step -2: Stabilizing wheel properly on the rack
This is another kind of important thing to be done properly before you start your journey.
The reason is, that wheels can move when you go through the rough roads or hit a bump. That is why you have to fasten the wheels with the rack in the right way using a rope. If it is fastened then you are free to start your journey. Neither, when your bike moves about then it can make scratches on your car.
Step -3: Tie the body of the bike as needed
If the body of the bike is not properly tied then it can move and even fall. So, to avoid unexpected accidents and falling down from the bike from your car you have to tie your bike's body properly with the rack.
Step -4: Cover your bike
One of the crucial things for your bike is to cover it when you carry it on a bike rack.
Bad weather is a great threat to your bike. Especially the snow and rain are huge threats. As you know that if your bike gets wet then the ironic part of your bike's body will be damaged slowly and it will not last long. On the contrary, your bike's color will also get damaged. Because of the heating problem, the bike's plastic parts and tires will be weakened. Also, dust may fade your bike's look. So, before you go cover your bike. another post How To Secure Front Wheel On A Car Bike Rack? [Ultimate Guide]
Step -5: Locking your bike
When you go somewhere or sleep at night you must leave your bike alone that is why to protect your bike from being stolen you obviously should lock your bike with the rack.
For that purpose, you can use a chain or a wire locker. It will protect your bike and give you a pleasant sleep at night even a stress-less mind. So, don't forget to lock your bike. Now you are ready to begin your journey and have much more fun.
Recent Posts
link to How To Lock Bike Rack To Car
Hitch bike racks to cars are great forms of carriers. There is the perfect device to bring three bicycles at once. Using a hitch rack allows you to camping longer distances while tagging a bike rack...
link to Vortex Rangefinder Reviews 2023
 I can give you some tips on what to look for when shopping for a Vortex Rangefinder . Consider the intended use of the Vortex Rangefinder. Do you need it for hunting, golfing, or some other...